High quality, high satisfaction
The tangible quality of our products is the result of an intangible and diffused quality which includes all aspects of business life: from how raw materials are chosen to how products are manufactured, including process organisation and work environment. All manufactured items have a high-quality standard, which is both certified and, most of all, granted. For Friul Intagli Industries, quality is a fundamental corporate value and an essential element for achieving operational excellence.
Constant production cycle checks on both products and processes and effective
monitoring of every single production phase allow us to guarantee high
quality standards.
We have our own laboratories where we usually carry out chemical
and physical tests to make sure that our products are compliant
with national and international standards.
BEING SUSTAINABLE
"More from Less.
Our goal is to produce more and better, using less resources."
Friul Intagli Industries is committed with great passion and dedication to producing value, wellbeing and above all positive impacts on the environment, people, the community and business. We believe that the future must be sustainable and built with everyone's contribution.
Our global approach is "More from Less". On this, we have built our strategic vision, which is to create better conditions for our planet, people and the next generations. We are attentive to the responsible management of all the raw materials. In our production processes, the cycle of materials use includes waste recycling, sorting and recovery.
Training and motivation spread awareness of the company's SUSTAINABILITY policy and goals.
Particular attention is paid to ensuring good workplace health and safety conditions for all employees; no inequality is tolerated. The Company also supports local social and cultural initiatives.
Human resources
Wood and wood-derived raw materials are procured in a sustainable manner, purchasing only recycled and/or certified material coming from responsibly managed forests. FSC ® (Forest Stewardship Council) or PEFC ™ (Programme for the Endorsement of Forest Certification schemes) certified products are delivered at the customer's request. Waste and scraps are sorted and collected separately for recycling. Research and development are carried out on a constant basis, so as to obtain better performing materials with less impact.
The electricity we use comes entirely from renewable and certified sources, a part of which is self-produced by photovoltaic systems installed on our roofs. Consumption is constantly monitored to ensure the efficiency of our processes. In order to limit emissions and energy waste, the Company has preferred to adopt electrical handling systems for its internal logistics, also optimizing intercompany transport.
The development of high quality products with low environmental impact is closely related to constant innovation in our production processes. The adoption of solutions that reduce the use of resources in all processing stages provides for the efficient use of raw materials and proper management of waste. The Company works constantly to come up with efficient and sustainable technical solutions to be implemented in its production processes in order to improve the use of materials and the performances of our plants in respect of the environment. Scrupulous planning allows us to minimize waste throughout the production cycle. "Get it right from the beginning"
All our products are designed to be people and planet friendly, considering a circular life cycle and taking into account many factors, including materials to be used, production system, disposal after use, decommissioning, recycling, reuse, environmental effects and effects on users. Friul Intagli Industries transfers these factors to satellite businesses and the suppliers network, promoting sustainable business models through responsible purchasing practices. Even the packaging of our products is important! Lighter and more compact means reducing the impact of logistics.

Certifications
Organisation

Available upon request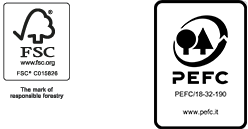 ISO 45001 certified management system limited to these locations:
UNIT 1-10, UNIT 20 in Prata di Pordenone
UNIT 2, UNIT 3, UNIT 4, UNIT 5, UNIT 6, UNIT 7, UNIT 8, UNIT 9, UNIT 11, UNIT 12 in Portobuffolè